Buy a Tag And Help Women Choose Life!
(Sales: Over $3.5 million!)
Grant Mississippi's Unborn Babies a 'LICENSE TO LIVE' by Helping Their Mothers "Choose Life!"
Take your current license plate to your local tag office and order a new Choose Life Tag for $31.
You don't even have to wait until your current tag expires. It's just that easy! Your new tag will be mailed to you within a week.
Over 40 MS Pregnancy Care Centers receive funding from the sale of the Choose Life specialty tags.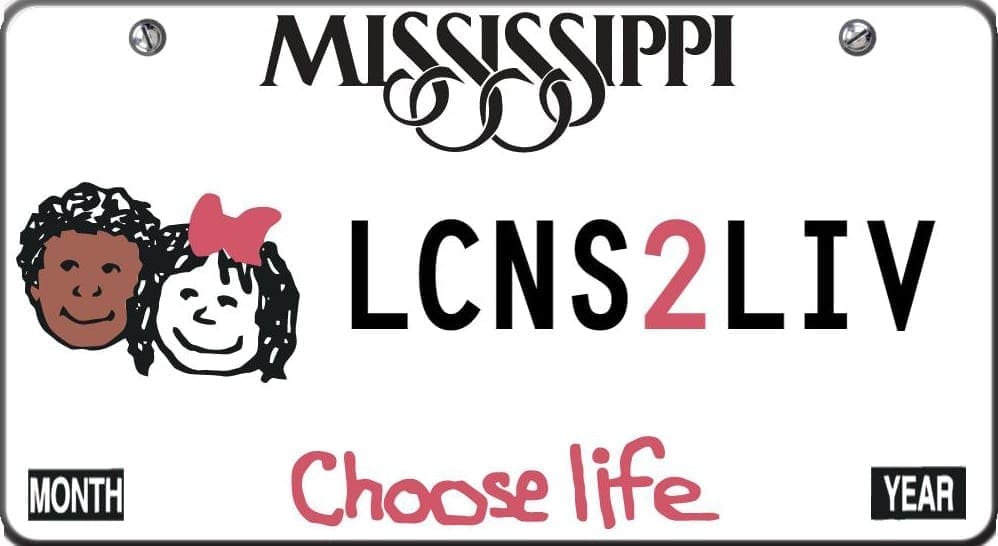 Have a question?
Visit our Contact Us page and submit your request.
Each quarter Choose Life MS sends pregnancy care centers and adoption agencies monetary grants for their operating expenses to keep their doors open to women who need safe places to go for physical, emotional, and spiritual support in their unplanned pregnancies.
Your DECISION to purchase a specialty tag contributes to the size of the grant given to your local care center.
Our Resource Pregnancy Centers
For more information regarding our pregnancy centers click the link below.
"The Choose Life tag benefits those of us who serve birthmothers in many vital ways. The quarterly grant we receive from Choose Life MS helps us reach them with a message of hope. Beyond that, Choose Life MS also promotes networking and the sharing of ideas among statewide preg-nancy care centers and adoption agencies that makes each of us better as a whole. We are proud to be a part of the greatest movement that promotes "life" in MS."
-New Beginnings International Children & Family Services, Tupelo, MS
With your purchases and renewals of the Choose Life tags, every quarter Choose Life MS sends grants to 45 MS Pregnancy Care Centers, Adoption Agencies, and Maternity Homes.
Pregnancy Care Centers serve as an extension of the Body of Christ by meeting the needs of men and women facing unplanned pregnancies and helping them avoid the trauma of abortion.